Men's Tuxedo For Wedding Prom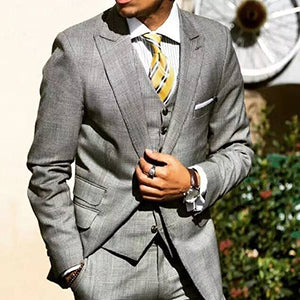 Men's Tuxedo
  Throughout the history of men's wear, tuxedo has always occupied an important position. Tuxedos are a classic and traditional look for black tie and other formal events. Nowadays, tuxedo suit has become the ultimate dress for men in social life.
  Men's tuxedos are the perfect combination of old school glamour, but with a modern design. But, just because you might not be attending a red carpet event, gala, black tie wedding, etc. frequently; a well-fitted and nice tuxedo is something that should be in every man's wardrobe. Men's Tuxedo for versatile occasions: Party, Gala, Celebration, Wedding,Grooms, Prom, Birthday, Concert, Homecoming, Halloween, Dinner, Festival, Show Performance etc.
Wedding Tuxedos
  We have a lot of wedding tuxedos for men. These three piece dresses are very suitable for the groom and the best man, which will make the wedding more brilliant. The slim-fit tuxedo has dominated in popularity over the past few years. It combines a classic look with a modern fit, helping to create a more streamlined and flattering wearing experience.
  Perfect for all occasions such as proms, weddings, and black tie events, these high fashion tuxedos look fabulous with a crisp white shirt and either a bow tie or a slim necktie to complete the look. The Western style dress is different from the general suit. The noble, smooth and soft fabric and the solemn shape complement each other to create a unique elegant atmosphere of the dress. 
  The groom's clothes are generally black or white suits, which can very well reflect the handsome men. Of course, with the diversification of people's needs, they no longer stick to ordinary black, white and gray, but start to try some new colors. Brown gives a small and fresh feeling of literature and art, while wine red gives a warm and cheerful feeling. Dark blue is a more versatile color, revealing a calm and sophisticated atmosphere.
Rules about tuxedo
  There are two styles of men's tuxedo: single breasted and double breasted. The collar type also has a pointed collar and an ordinary suit collar. In principle, men's tuxedos should use suspenders and black bow ties. In addition to the most orthodox black fabric, all kinds of dress fabrics such as gray, white, royal blue and wine red can be used, which are colorful, fun and gorgeous. Strictly speaking, formal shoes should also be worn.
  If you receive an invitation to a party that says Black tie, then wear Tuxedo. Tuxedo, dress shirt and bow tie, can be called Black Tie Three Swordsmen. In Black Tie, bow tie is indispensable. At the end of the 19th century, the end of the bow tie became longer and longer, and gradually evolved into a tie. However, in some traditional social occasions and relatively grand parties, the bow tie is still used to match the men's tuxedo, which is considered to be the only orthodox collar dress. Of course, we also provide various colors of bow ties, which can be used to match different styles of suits.
  First of all, you must wear leather shoes when wearing the tuxedo, and you cannot wear travel shoes, cloth shoes or sandals, otherwise it will be nondescript. Secondly, it is more formal to wear a suit on formal occasions, usually with black or brown leather shoes. On formal occasions, you should wear a white shirt or a light colored shirt, accompanied by a dark suit and tie to show decency.
Men's suit
  In addition to tuxedos, our suits are also very popular. The reason for the longevity of suit is that it has a deep cultural connotation and the mainstream suit culture is often labelled as "cultured, educated, gentlemanly and authoritative". The main characteristics of suit are its straightforward appearance, smooth lines and comfort.
  According to the number of suits, it can be divided into single suit, two-piece suit and three piece suit. A single suit, that is, a suit jacket that does not match with trousers, is only suitable for informal occasions. A suit refers to a complete set of blouses and trousers with the same fabric, color and style. Usually, there are two piece suits and three piece suits. Two piece suit includes jacket and pants, and three piece suit includes jacket, vest and pants. According to people's traditional view, a three piece suit is more formal than a two piece suit.
  According to the button arrangement of the suit jacket, it can be divided into single breasted suit jacket and double breasted suit jacket. One button and two buttons are the most common buttons of a single breasted suit jacket. One button single breasted suit jacket looks fashionable, while the two button single breasted suit jacket looks more formal.
---
0 comments