Check Out Our New Arrival of 3 Piece Slim Fit Suits!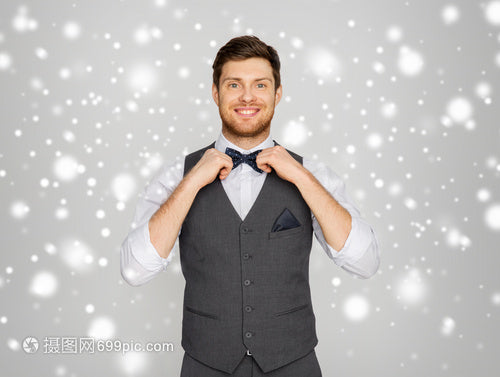 New Arrival of Slim Fit Suits
  Are you looking for high-quality suits that are stylish, fashionable and fit perfectly? Look no further than MOGU's new arrival of 3 Piece Slim Fit Suits! Our suits come in a variety of styles - from one-button to two-button, single-breasted and double-breasted. Whether you are attending a formal event or just going to the office, our suits will make sure you look your best! So check out MOGU's collection today and find the perfect suit for you!
  Our men's suits are available in a variety of cuts, styles and colors, so you can easily find the perfect match for your individual style. From slim fit cuts to timelessly classic designs, there's something here to suit every man's wardrobe. All our suits are tailored to perfection, ensuring that you have the very best in both comfort and style.
  At MOGU, we know that the quality of your suit is just as important as the way it looks. That's why all our men's suits are made from only the finest materials, ensuring that they are not only fashionable but also durable and long-lasting. We guarantee that our 3-piece suits will stand up to daily wear and tear without losing their shape or color, so you can wear them with confidence for years to come.
New Arrival Suit
  Mogu has recently released some new arrival suits. The material of these suits : 65% polyester 25% viscose 4% spandex 6% wool. And There are many styles, including solid suits, striped suits, plaid suits, etc. And there are also many colors available: white, yellow, light grey, dark grey, green, black, navy blue and brown.
   According to the button arrangement of the suit jacket, it can be divided into single breasted suit jacket and double breasted suit jacket. One button and two buttons are the most common buttons of a single breasted suit jacket. One button single breasted suit jacket looks fashionable, while the two button single breasted suit jacket looks more formal. Among these new arrival suits, if you want a more elegant type for your event, then you can choose a double-breasted suit in gray, white, green and black.  If you want a more casual type of suit, you can choose a solid color suit with one or two buttons. Solid color suits always bring a more casual and comfortable feeling.
 Whether you're looking for a classic black 3-piece for the office or something bolder for special occasions, MOGU's new arrivals have something for everyone. With our wide range of options, you'll be sure to find the perfect suit to make any outfit look its best. So, what are you waiting for? Shop now and find the perfect three-piece men's suit to add to your wardrobe.
Three Piece Suit
  For modern men, 3 piece suits are the best choice for formal wear, because they can be displayed in gorgeous formal activities, or can be paired with formal shirts to create an ultimate fashion casual look. At MOGU, you can buy slim fit suits in different colors to meet everyone's specific needs and personal style. In addition, we also provide a series of pants, suit jackets, vests and bow ties. Whether it's a casual suit for the office or a wedding tuxedo for special occasions, any suit is incomplete without appropriate accessories, so why not match it with appropriate shirts, pants and shoes to complete the whole look.

  In addition to providing various suits, MOGU also focuses on the ultra modern affordable fashion style. We have thousands of the latest products to meet customer needs. We also provide high-quality and professional after-sales service for every customer from all over the world. We also have a range of amazing ties, so if you want to buy a range of bow ties to mix with your new slim fitting tuxedo, please take a moment to check out our various color bow ties. We teach you all you need to know about the different sizes available, and guide you to choose pants sizes, etc. This allows you to find a tuxedo that suits you best.
  The latest collection from MOGU is here, and it's perfect for any man who wants to look smart and stylish. The quality of the fabric is second-to-none, ensuring a comfortable fit and great look. Whether you're attending a formal event or simply want to look your best, our new arrival of slim fit suits is sure to make a statement. With plenty of colors and styles to choose from, you'll find something that suits you and your lifestyle. So what are you waiting for? Check out our latest collection now.
New Suit Jacket
  The fabric of MOGU's newly arrived men's blazer is of the highest quality, which is both comfortable and durable. The lightweight material is breathable and wrinkle resistant, which means you can look sharp all day long. This blazer is also available in a range of different color options, so you can find the perfect style to suit your style.

  This blazer is also easy to care for. It can be machine washed in cold water and should be air dried to retain its shape. You can even use steam to smooth out any wrinkles if needed. With proper care, this blazer will last for years, making it a great investment for your closet. If you're looking for a stylish, slim-fitting blazer that looks great and is made of high-quality materials, then MOGU's men's blazer is an ideal choice. It's sure to become a staple piece in your closet, allowing you to look your best for any occasion.
  MOGU's new arrival of 3 piece suits are perfect for any occasion. With a variety of styles and sizes, there is something for everyone. High quality materials ensure the suits will look great and last. Make sure to check out MOGU's new collection today!
FAQ:
What does the blog title describe?
New 2 piece or 3 piece slim fit suits
What kind of product is featured?
Men's suits
Where can these products be found?
---
0 comments