Tips on choosing a groomsman's suit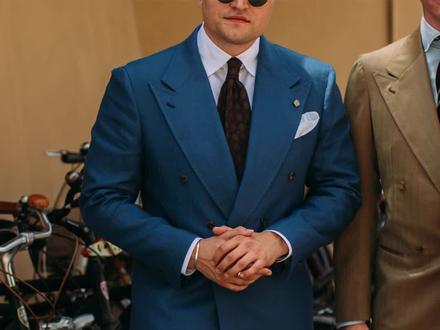 Many newlyweds tend to pay more attention to the style and details of the bride's wedding dress when choosing their wedding dress while ignoring the importance of the groom's suit. As you know, this is a wedding for two people. The groom's dress is as important as the bride's wedding dress in terms of dress selection! If you don't choose well, be careful to become the hotel bellboy! Now I will show you how to select the groom's suit? We can mainly start from three aspects: the color, fabric and material of the suit, and the version of the suit.
Suit Color
The color part also needs to be selected concerning the wedding theme, the groom's skin tone and body shape, and personal preferences.
1. According to the wedding theme
First of all, you must decide on the theme and style of the wedding before you start choosing a dress. If it is an atmospheric and elegant indoor wedding, then dark red/dark. Blue suits can bring more aura to the groom. Grass weddings, forest weddings, small and fresh-style weddings, and white/light/black suits are more suitable. Lawn for weddings, island weddings, the groom can try a grey suit, which is more harmonious with the surrounding bright colors. Remember a universal color combination if you don't feel like trying out fancy colors! Choose dark blue for sure! Dark blue is a versatile color in a suit. No matter what style or style of Western-style wedding dress you go with, you can't go wrong.
2. According to the groom's skin color
Grooms with darker skin should avoid wearing grey, brown, black and other earth-colored suits, which will only appear darker. You should choose a brighter color, such as light blue, to better set off your skin tone and show your temperament. If you are very confident in yourself and want to try different styles of Lang, you can also consider retro-colored suits such as coffee color.
3. According to the groom's body shape
A thinner groom should not choose a solid color dress that is too dark such as dark grey and black, which will make the visual focus smaller, wholly become a green leaf to set off the bride and look old. On the contrary, choose brightly colored suits, such as light blue, sapphire blue, etc., preferably with plaid with a particular divergent effect, so as not to be too thin and become the hero of the wedding scene. 
Fabric and material
Fabrics and materials are also critical when choosing a quality men's suit. Suitable fabrics can enhance the temperament and aura of the whole person, giving people a sense of an elegant gentleman. Therefore, we must grasp the five keywords when choosing fabrics: soft, light, thin, firm and comfortable.
1. How to choose a suitable fabric
In addition to the suit mentioned above, wool is the preferred material, and suits made of other materials are not inconsiderable. The main point to follow is that it must be touched with your own hands! Whether custom or rental, connect the fabric with your own hands before deciding! Touch the textiles of different materials more. You can feel the difference and choose the most comfortable one.
A tip: The groom's suit is different from the usual business suit. Choosing a slightly glossy fabric can make the protagonist's halo more prominent!
2. Choose different materials according to the season
When you choose a suit, you must also consider seasonal factors based on the fabric. Spring and summer suits need to consider breath ability and lightness, and soft angora wool, cotton, linen, and blended materials are the first choices. You need to keep warm in winter, and heavy fabrics such as cashmere, flannel, and wool are more suitable. In addition, the fatty material fabric is ideal for slender men, which visually helps to increase the body's weight so as not to give people a thin feeling.
Type and cut
Suits are a type of clothing that is very particular about size and fit. No matter how high-quality a suit is, once the tailoring is inappropriate, it will lose the aura and fashion sense brought by the dress. Therefore, many grooms choose to customise their suits before marriage instead of renting them. Let's take a brief look at the three ordinary men's suit styles:
1. Lapel collar with a single row and two buttons
Because of the pointed lapel collar, the lapels look sharper and more delicate. Compared with the flat lapels, they are more fashionable for grooms who don't want to choose fancy and exaggerated but wish to pursue different minor details. They are very suitable.
2. Double-breasted suit
Many grooms prefer double-breasted suits when choosing suits. They feel that this style is gentlemanly and elegant. It is true that Uncle Face's double-breasted suit in "Ace Agent" is exceptionally handsome. Still, double-breasted buttons are more attractive, like being too thin or Men with stomachs are not suitable, but strong and tall people are handsome in double-breasted!
3. Tuxedo dress
A tuxedo dress can be understood as a short tuxedo, which is a semi-formal men's dress and belongs to the evening dress category. Perfect for weddings, its signature feature is its satin lapels. If your wedding is formal, I highly recommend this one.
A textured suit will enhance the entire wedding. The above is all about how to choose the groom's suit. The groom can start from these three aspects and choices concerning their daily habits, personal preferences and other factors. 
---
0 comments